Private chauffeur in Malmo – Limogroup Sweden
Private chauffeur in Malmo
Limogroup Sweden
Are you in need of a private chauffeur in Malmo? We got exactly what you need at Limogroup Sweden. Our private chaffeurs handle their jobs alongside top-modern vehicles, specialized solutions and a world-class service. We are here to cater to your transporting needs and to give you an experience saturated in luxuriousness and exclusivity.
Our private chauffeurs go over and beyond typical taxi-duties. Our business's driving force is derived from the ambition to build long-lasting and meaningful relations with our clients. That's exactly why it's monumental for us to be able to offer a large array of flexible services. All of our drivers have been carefully selected according to this philosophy resulting in us guaranteeing you that we're able to offer you an exclusive experience that you won't soon forget.
We deliver all kinds of different services in the transporting trade, consequently we want to emphasize that no matter is neither too large or too small for us. Don't hesitate in contacting us, because we are confident that we got what you need.
Rent, hire or book a private chauffeur in Malmo
Take the next step in travel today. Rent, hire or book a private chauffeur in Malmo today. Avoid fussing about with the taximeters or the cramped public transport, our private chauffeurs and our luxurious vehicles will grant you the ride that you deserve. We host a quick and efficient booking system right here on our website. In just a matter of minutes and quick easy step you can also have a driver waiting for you just the day after. If you instead are looking for a personal touch when booking our services, you can contact us by either phone or e-mail. You can find our information further down this page.
Malmo is an incredibly beautiful and living city, with lots to offer. Our private chauffeurs will give you a memorable ride through this amazing city. We offer these types of guided sightseeing-tours that will show you the best of what there is to see in one of our discrete and comfortable vehicles. As previously aforementioned, this is just a small glimpse in all the different services we offer.
We're also happen to handle a lot more difficult and complex assignments. We have a lot of experience in handling events and similar larger missions. Our personnel will oversee and take care off all the organization, planning and logistics so that you can focus on enjoying your special occasion. We have vehicles capable of transporting up to 70 people at once, with food & drink available at your request. You can read more about the vehicles we use in our operation at its respective page.
We're also happily obliged to undertake simpler jobs as well. This can include but not limited to; taxi-services, airport transfers, casual cruises and much more. Like previously mentioned, no requests are neither too large or too small for us. Don't hesitate with contacting us!
Pricing of hiring a private chauffeur in Malmo
We have always strived to deliver a world-class service with the best chauffeurs ever since our inception. It's of the utmost importance to do this for a competitive and fair price point. Due to the nature of our business and the multitude of factors that goes in to calculating the total cost of our services, we're unfortunately unable to give you a price without first understanding more specifically how we can help you. Feel free to contact one of our customer representatives which will enlighten you with our pricing, or alternatively if you've chosen to you our online booking we'll return to you as soon as possible with a price.
All of our chauffeurs are well-versed in both English and Swedish. They all have an excellent knowledge of local landmarks resulting from their years of experience as well as an education and certification in advanced driving. At your request we're able to arrange a driver fluent in your language of choice as well as a bodyguard experience if that happens to be a need of yours. Please make sure to make a note of this at the time of booking our services.
You're also free to hire one of our private chauffeurs by the hour. This is extremely convenient for those of you who don't know beforehand as to which extent you will be in need of a private chauffeur. The hourly rate is based on the exact same factors and variables that's used in calculating the fixed price.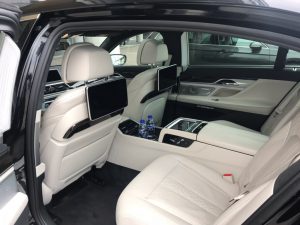 Luxurious and exclusive private chauffeurs in Malmo
Take the next step in travel and hire your luxurious and exclusive private chauffeur today. You've come to the right place if you're looking for a flexible service that's always presented professionally and discretely. We always go above and beyond for our clients and we can confidently say that we offer the best private chauffeurs in Malmo.
We consider your privacy to be of the utmost importance. You can rest assured when we say that your both of your personal information and ride information will ever hand up in the hands of any other. All of our personnel have signed a non-disclosure agreement to ensure you of this.
Don't hesitate with contacting us, in return we guarantee you an exclusive experience saturated with class, elegance and luxuriousness. We look forward to hearing from you!
We are not a car company with chauffeurs, we are a chauffeur company with cars.
Welcome to the next level in life and travel!